Discover our collection of exclusive RightFax information for an expert view into your RightFax system.
OpenText RightFax Fax Server Software
RightFax is the premiere enterprise fax server solution, with on-premise, hybrid, and cloud deployment options.
By: Advantage Technologies
The No.1 Fax Server and Automated Electronic Document Delivery Solution
Speed Up Business Processes
Eliminate Costly Fax Machines
Increase Document Security
What is OpenText RightFax?
As an automated electronic document delivery system, RightFax integrates with most desktop and business applications to maximize employee productivity, improve information security, decrease paper-related costs and security risks associated with stand-alone fax machines.
Thousands of organizations depend on RightFax to provide robust configurability and flexible integrations that centralize their fax infrastructure, speed up their business processes and increase security of their fax transmissions.
How does RightFax work?
The RightFax fax server operates similarly to an email server. It lets you send and receive documents electronically…eliminating the need for costly, stand-alone fax machines. RightFax securely sends and receives documents from a variety of sources via the cloud or telephone connections. It allows you to send faxes from multi-function printers (MFPs), desktop applications, email applications, any third-party application such as Office 365 or a CRM system.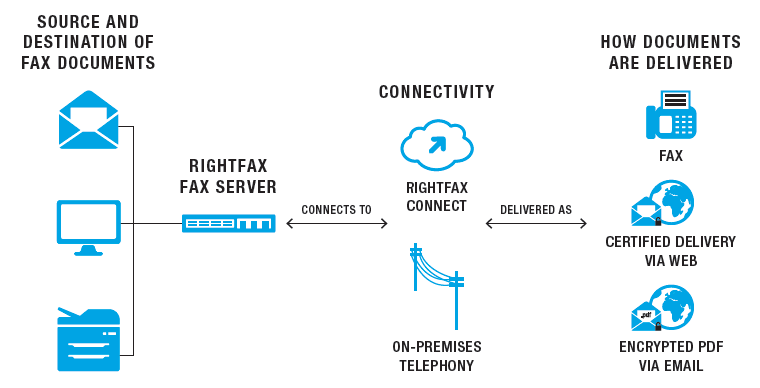 What can RightFax do?
The latest RightFax 16.4 offers the latest enhancements in fax server technology to seamlessly incorporate fax into all existing office hardware and applications such as Exchange, SharePoint, and SAP; MFP/MFD devices; IP-based phone systems; EMRs and other back office applications.
RightFax offers:
Streamlined Workflows
With RightFax, there's no need for time-consuming manual faxing and you get instant verification of document transmission/receipt with notification options and full audit trail. Plus, centralized control of faxing across the entire organization helps maximize productivity by giving employees the ability to manage faxes from virtually any desktop, CRM, and email application.
Improved Security and Compliance
RightFax helps organizations reduce their risk significantly by helping to eliminate errors commonly associated with manual processes, delivering encrypted files via secure email to fax with certified delivery, and integrating vertical applications for increased privacy. This aids organizational efforts to comply with regulations such as:
Cloud and Hybrid Options
RightFax is continuously innovating from the standard on-premise server by including various cloud offerings that allow users to send and receive faxes in real time via the internet. Offerings include:
If your organization deals with a high-volume of fax communications and you would like to improve productivity, reduce paper-related costs, and increase document security, then RightFax is the solution for you.
Let Advantage help you get started with RightFax! Call us at 866.730.1700 or email info@atechnologies.com.
We Create Fully Connected Fax Workflows So You Can Focus On Your Business
Our RightFax experts can help you integrate RightFax with most of the leading EMR software applications, which allows for a faster workflow process and more seamless patient servicing.
Get Started
Mailing Address
Advantage Technologies
575 Lexington Ave
Suite 12-110
New York, NY 10022